Some 37 episodes after what I honestly thought was a noble but sort of rocky start, El Rey Network's increasingly renowned LUCHA UNDERGROUND now enters it's multi-week finale "Ultima Lucha" — the equivalent of what others gouge audiences for on Pay-Per-View but is FREE for the show's rabidly loyal audience.
If you haven't been watching… well… START! Take a break from your bullshit life and watch this 37-minute recap of the series so far. Go ahead, I'll wait.
In 1994 I got a bootleg tape of the WCW/AAA crossover PPV When World's Collide, which I've since referred to as "Lucha Libre 101." It was the genuine Mexican product, packaged for American audiences, astutely curated by expert announcers and 1000% sold me on Mexican masked wrestlers as the center of my universe. I've been waiting for that to occur again ever since. Watched WCW devour careers of Mexico's best, watched WWE use them as comedy relief, seen several failed attempts by MTV and other outlets to repackage lucha with head-scratching results and a lot of good work by those in the know get squandered by those above them in the industry chain who clearly weren't.
Lucha Underground is finally the show I've been waiting for since the mid 90s.
I had my doubts at first. I cringed at how the coached crowd felt like unpaid extras at the earliest tapings. I didn't like the inter-gender combat. I felt a disjunct between the rather genuine ring action and the grindhouse movie-like backstage stuff that largely replaced in-ring promos. I missed instant replay, especially in such a 'spot-driven' show.
But I loved the setting (The Temple, a warehouse that symbolically resembles an upside down Aztec pyramid if you think about it) and the branding, like all things on the El Rey Network, was just superb. I loved that they did video packages of luchadores on dusky urban rooftops the same way vintage lucha mags used to do, and the out-of-the-box mask and character designs were refreshing as hell.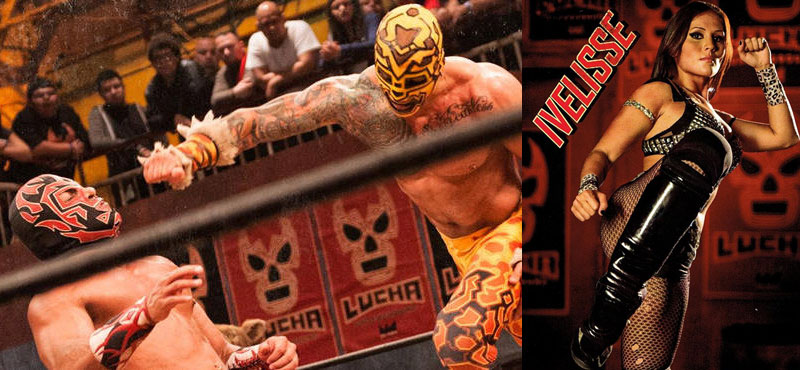 I stuck with it because the matches were off the damn chain. The crowds got more genuine, more verbose, complemented by live Latino fusion bands. They brought in more and more talent, introduced their own belts, slowly mixed in fixtures of the trade like mask matches and Atomicos tag teams and the continually improving announcers constantly educated the audience so that everything, even minis and exoticos, came off with respect. The promotion and the show, hell, even the squalor of the Boyle Heights neighborhood, pearled-up layer by branded layer into a unique product with a remarkable depth of identity.
I realized mid-way through the season a lot of what gave me pause at the beginning was transforming into things I absolutely loved. The cinematic backstage stuff felt more and more like the best telenovela ever — wearing it's demented heart of its sleeve with confidence and bravado like no other wrestling show can — peaking with a failed wrestler being bloodily murdered by a caged cannibal! I'm not making this up!!!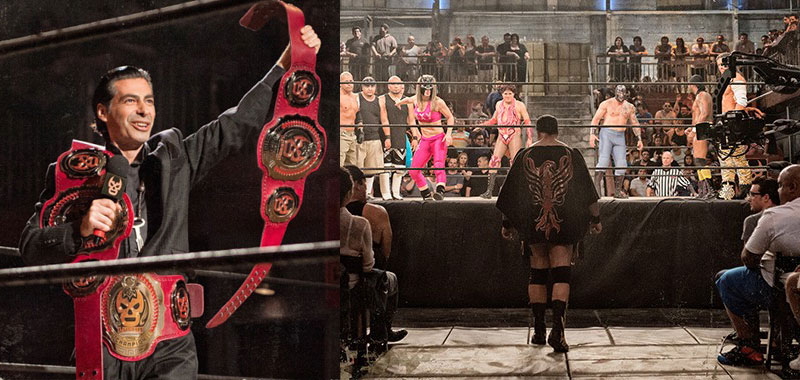 Two thirds through the season I was a full-on convert grabbing friends by the collar and slapping them if they hadn't been tuning in. Dario Cueto  became the best villain promoter character ever rendered in the history of the business, the Mexican soap opera sleaze factor making an all-too-tired archetype deliriously refreshing. A kid from South Africa named Angelico executes high spots off the building architecture that should go down in wrestling history. I'm never going to want to see a woman thrown down by a larger man, but Sexy Star and Ivelisse absolutely own this inter-gender thing and I have crazy respect for their efforts. The man I will always want to re-mask as Dos Caras Jr. showed up and elevated everyone's game. LU just kept rocking this shit!
And now here we are, going into a multi-week season climax. Lucha Underground is a more structured type of show and crew format than typical wrestling promotions. They have a set 'season' and a finite number of episodes, so there's been a point A and point B from the start. THAT is possibly LU's greatest strength. If there's one thing that drives me nuts, and casual fans away from, all other American 'rasslin, it's the knee-jerk panic-stricken editorial that evolves from week-to-week and turns on a dime based on crowd noise and merchandise sales — logic and story-telling thrown to the wind. This show can't do that, so the insulting ludicrousness and constant confusion that makes 'live' wrestling properties so resistant to drawing in and retaining new viewers isn't there as an achilles heel. It's nearly Japanese puroresu in its discipline. Characters and stories have built up, feuds mean something and have a strong history for the most part, and the LU faithful are all psyched as hell about this climactic pack of shows coming up as the payoff.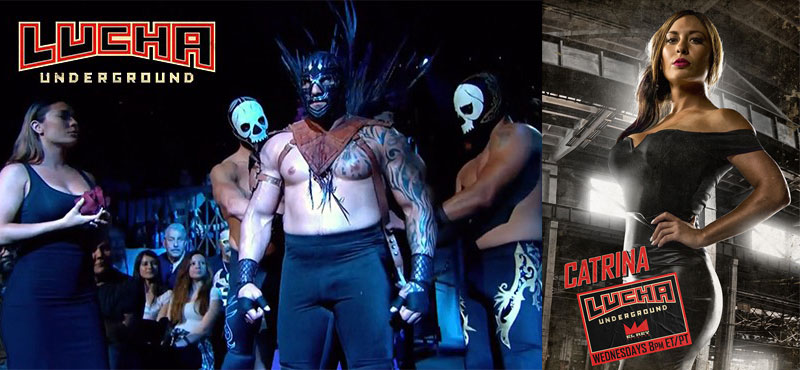 So yeah, you need to watch the next two week's shows. Let's get the ratings up. Let's help Season 2 happen!
This effortlessly diverse show — from the ring talent to the behind-the-scenes creative to the fervent multi-ethnic and social-strata defying crowd…
This gorgeous snapshot of modern Los Angeles pop culture…
This uniquely new product with its beautiful cinematography woven into dynamic sports photography that in many ways harkens back more to classic lucha libre than even CMLL does in Mexico City (have you seen how ruined by sponsor clutter and god-awful aesthetics the home-grown product has become now???)…
This thing, Lucha Underground, it needs to keep happening.
I need this season on bi-lingual Blu-ray, with extras. I need a King Cuerno souvenir hood, and action figures of Catrina, Mil Muretes and the Disciples of Death, and some logo hats… AND I NEED TO SEE ANOTHER WRESTLER FED TO THE CAGED CANNIBAL!!!
Keith J. Rainville — 7/28/15