Monsterpalooza is arguably the country's best horror convention, and I'm always there selling vintage toys and lucha libre ephemera, but this year there's yet another incentive.
I'll be joined this weekend by Rafael Navarro himself, and we'll be giving passersby the first look at some NEW masked wrestler vs. monster comic book goodness we've been cooking up! I won't reveal too much, but let's just say fans of Raf's long-running lucha noir supernatural gumshoe Sonambulo and a certain gill-creature from a dark body of water will LOVE it…
Here's a glancing look at an exclusive giclee print we'll be selling, while supplies last: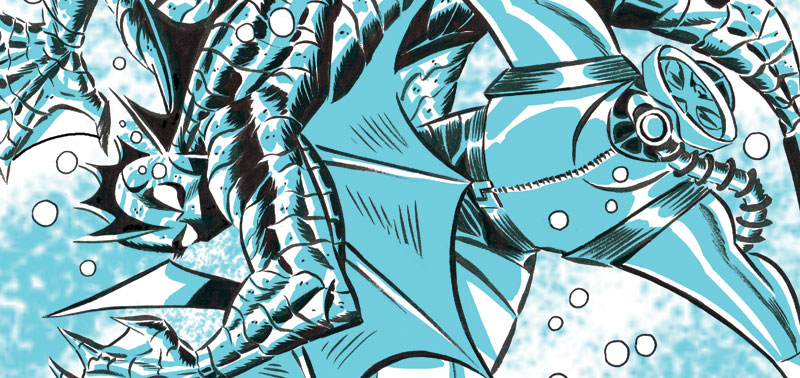 So swing on by, we'll be at Table #175 in the outer hall near the front doors. We're joining a bevy of indie artists and filmmakers, genre celebs and FX industry pros all of whom deserve your attention and support. There's no better monster shopping on the planet!
Meanwhile, on a tangental note, yours truly is the point man on the marketing efforts of this genre-bending performing arts experiential mash-up — a night at the opera like no other — HERCULES VS. VAMPIRES:
Mario Bava muscle madness re-scored with a live orchestra and opera singers, and for as low as $24 a seat in LA's mid-century mod opera house downtown? You can't ask for a better date night!