Sorry kids, the following pieces of history are just that… history.
To rub it in, here's a rundown of some of our past glories that have long since sold out.
FPU #2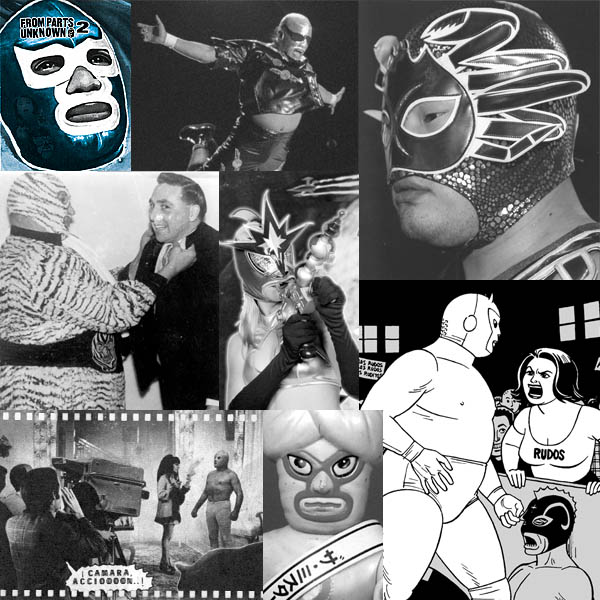 Released in early 1998, this 64-page giant featured the first-ever English language interview with The Great Sasuke and the stars of Michinoku Pro, Jaime Hernandez on his wrestling comics and his use of lucha libre in Love & Rockets, Tiger Mask toys, a history of American masked wrestlers, lessons on loading foreign objects into your hood, the Mexican obsession with groin kicks, and space-age pin-up NovaGrrl 3000.
Less than 1,000 of these ever made it to stores, so if you see one on eBay grab it.
FPU #3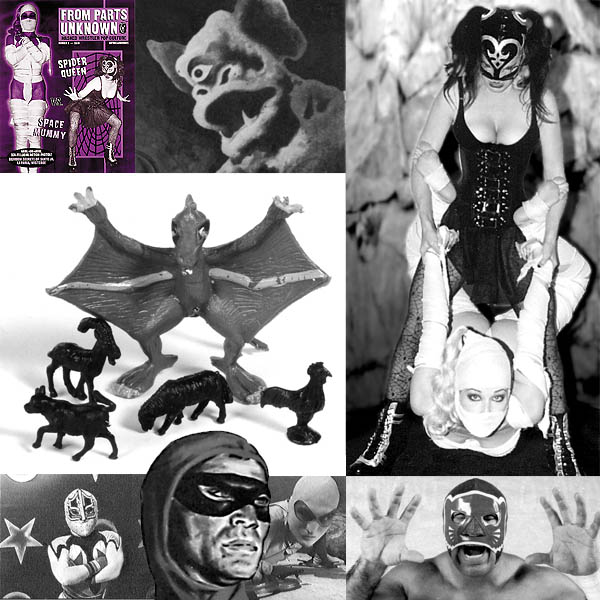 Released Summer 1998, FPU #3 was our somewhat notorious 'sex issue' – infused with all sorts of perv and fetish, climaxed by a catfight photo spread starring Dita Von Tease. Features include bedroom tips for the masked set, Chupacabras, Italian masked criminal characters, and a great series of quotes from the likes of Hio del Santo, La Parka, Rey Mysterio, Dr. Wagner and more on their own masked sexual encounters. This stuff was too good to be true, and a lot of folks accused us of fabricating the whole thing, but it was for f'n real! Ask our impromptu translator El Vampiro Canadiense…
FPU #7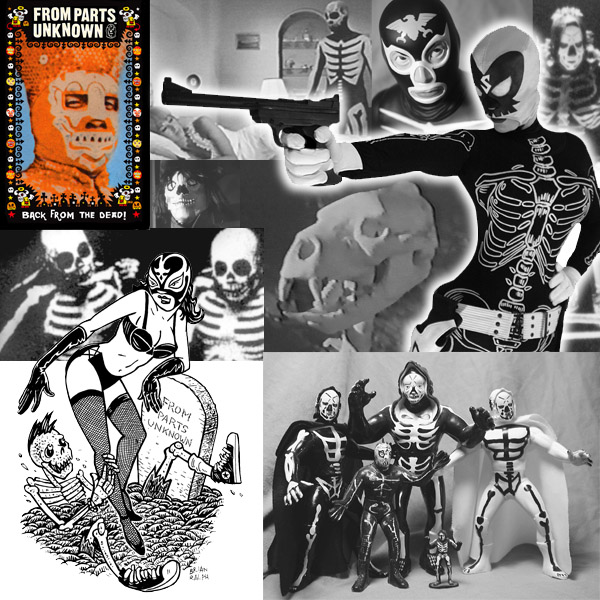 We produced this digest-sized mini-issue as a convention exclusive for the October 2003 Cinema Wasteland in Cleveland, Ohio. For the lucky few hundred who snagged one, it was an all-you-can-eat buffet of skeleton-themed goodness, from La Parka to Shockers to Kriminal to our own sexy villainess Skeletura Satanic.
HoodWink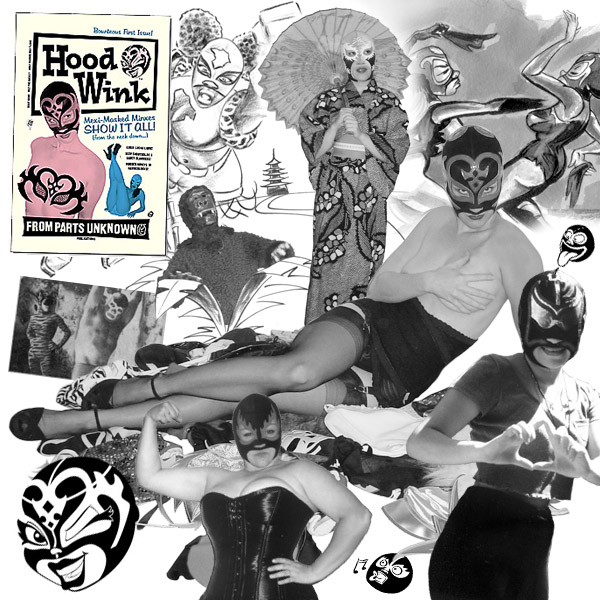 We fashioned this Adults-Only digest after the cheap porn rags sold in combat zones throughout the 60s and 70s. Full of 'nudie-cutie' raunch, dirty cartoons, smutty letters and smuttier advertising, it was sold in a select few boutiques around Los Angeles who got the depth of the parody. Less than 500 of these are out there, and many of those probably have pages stuck together, so this is the rarest of the rarities.
Primate of the Deep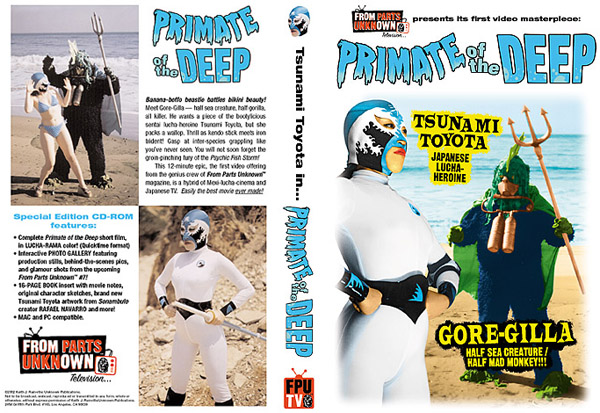 We shot a short video as bumper segments for a compilation of lucha-themed cartoons that sadly never saw the light of day. A hundred or so copies of this hybrid sentai/luchahero 'movie-within-a-movie' were duped onto VHS and sold at the San Diego ComiCon in 2002 with a sketchbook and miniature lobby card.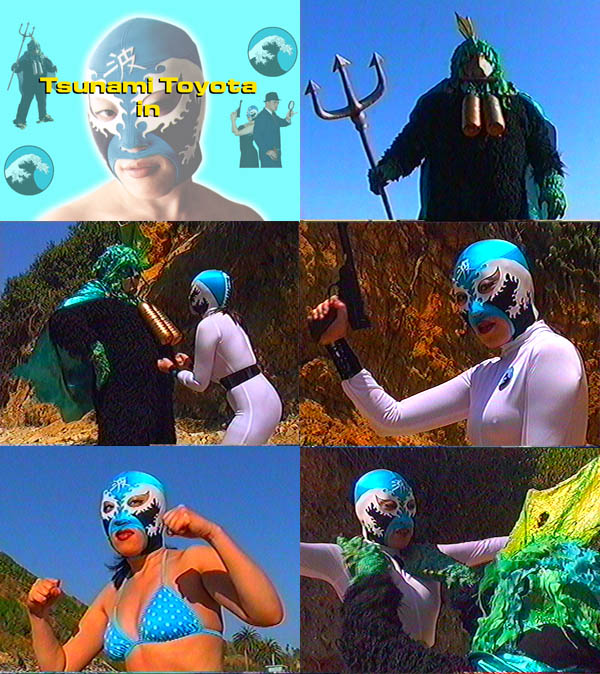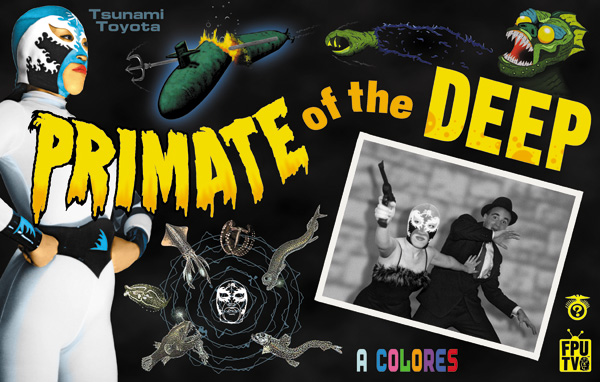 FPU-Cito Newsletter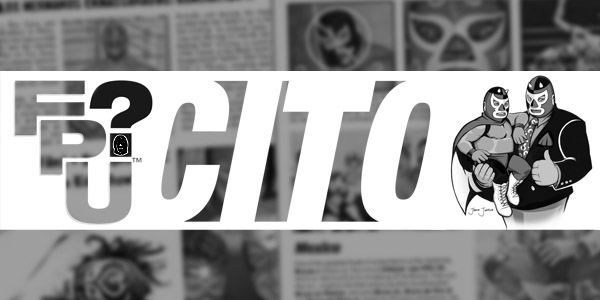 FPU was published either annually or bi-anually, so in-between issues we'd kick out an 8-12 page newsletter – mostly rants, gripes, topical news items, more rants and gripes, and some more rants and gripes for good measure. 12 issues were produced from 1996-2000.
Masked Adventures #1 –
Rampage of the Mad Mask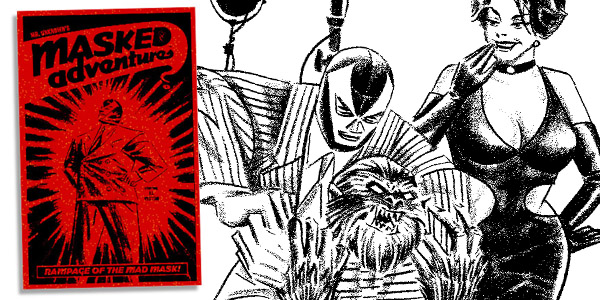 A short story produced in 'ashcan' or 'chapbook' format, with illustrations by Rafael Navarro. Two small runs were printed, one with a tan/marble cover, the second with a deep red gold-flecked cover.
Retired luchador-turned-movie-consultant VICTOR is the only one alarmed when an aging villain from 'the old days' escapes the asylum. But when The Mad Mask crosses the line from old-school hijinks to modern terrorism, the masked community is forced to police its own in the most severe of ways.